Aquarium Maintenance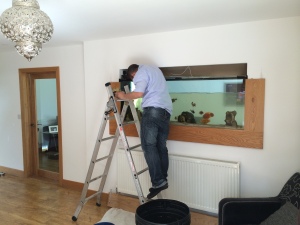 The key to being successful in the fishkeeping hobby is to maintain good water quality. Regardless of the livestock you would like to keep in your fish tank the best way to accomplish this is by performing frequent water changes. Small frequent water changes (10% of the total water volume per week) are the best thing that any fishkeeper can do. If you are not able to perform weekly water changes, then 15%-20% every other week would be recommended.
Performing maintenance to your equipment is a great way to increase their life span. Aim to clean all the equipment at least once a month, especially if you are using external filters, skimmers, LED lights.
What can we do for you? If you know that you won't be able to perform the maintenance care that the fish tank would need, due to physical or time reasons. Let Fishkeeper Plus take care of your tank.
We will :
Perform water changes
Clean filters
Clean glass
Clean substrates
Perform water tests
Clean skimmer cups
Maintain equipment – clean impellers, etc
Perform general checks on your equipment
Perform health checks on your livestock
Contact us here.